爱博恩妇产医院 iBorn Women's & Children's Hospital


广州爱博恩妇产医院由爱博恩医疗集团创办,依托知名三甲医院,在医院管理、医疗技术、科研教学、学科建设、医生团队等方面提供支持,专注于为中外精英家庭提供高品质妇产儿一体化医疗服务。
 Guangzhou I BORN Women's Hospital specializes in providing high quality obstetrics& gynecology and neonatal medical service for elite family home and abroad with the inheritance of centennial medical quality of Sun Yat-sen medical system.
  科学、专业、优质、舒适的系统服务以及来自三甲医院医系统的先进技术权威医生支持,将带给每一位客户全新的高品质就诊体验。
  We will bring brand new high quality medical experience for each customer with scientific, professional, superior quality and comfortable systematic services, as well as the support of advanced technologies .
  中式 Chinese
  深刻理解中国传统孕育文化,提供基于对客户卓越洞察的富有华南地区特色的家庭化医疗服务。
  deep understanding of traditional Chinese birthing culture, we provide family-oriented medical service full of Southern China characteristics based on excellent insight into customers.
  国际 International
  践行精准医学理念,引进海外先进医疗设备与管理模式,实现国际医疗保险结算及多语种语言翻译,由世界500 强服务供应商实施后勤保障。
  We practice precise medical philosophy, introduce advanced medical equipment and management model to realize international medical insurance settle-ment and multi-language translation, and have logistics support provided by Fortune 500 service providers.
  权威 Authoritative
  由知名三甲医院核心医疗团队提供医疗质量及安全保障,汇集华南区及国内外妇产医学医生提供会诊及手术服务。
  Having core medical team from Sun Yat-sen University and its affili-ated hospitals to ensure the medical quality and security, we gather obstetrics & gynecology experts from south China, home and aboard to provide consultation and operation services.
  专业 Professional
  融合美、日、英医院设计理念,依据国际医疗卫生机构认证 JCI 标准进行医院建设,按照中国三级甲等医院诊疗和管理标准制定临床路径体系,打造同步世界的医疗安全和服务品质。
  Integrating American, Japan and British hospital design concept, the hospital was built according to Joint Commission on Accreditation of Healthcare Organizations (JCAHO) and Joint Commission International (JCI) Hospital Standards Practical Guidelines, while clinical pathway was formulated by referring to diagnosis and treatment, as well as management standards of domestic Third-Level Grade A hospitals, thus to create the security and service that synchronize with the world.
  智慧 Intelligence
  采用云计算、云存储的智慧医院,应用智能穿戴设备、 移动医护、 智能家居、 智能安防系统、 数字支付、 远程医疗、个体化基因诊疗技术,创立新型"互联网 + 妇儿健康"解决方案。
  As an intelligent hospital pioneering the use of cloud computing, cloud storage in China, we established the new solution of"internet+woman and child health"through applying smart wearable devices, Mobile cure and nurse, intelligent hosehold, intelligent safe-guard system, digital payment, telemediline, individualized gene diagnosis and treatment fechnology.

  国际化的医疗团队 International medical team
  爱博恩妇产医院与三甲医院妇产科学科带头人、省市妇幼医院等各附属医院,多位医生建立工作坊,定期邀请英国皇家妇产学会、香港中文大学等国内外医生亲诊。
 Led by Professor Hou Hongying, as well as experts including Zhang Xuehua - the Director of neonatology Professor Hei Ziqing - the Director of Anesthesiology of The Hospital, Professor Zheng Rongqin- Director of ultrasound department of The Hospital, Professor Taoling Director of Pharmacy department of The Hospital, Professor Gaoling and Doctor Zhangjun ofrom the Genetic Laboratory, to participate into the construction and managenebt of various departments in the hospital.
  国内外合作伙伴 Domestic and foreign partners
  定期邀请美国堪萨斯大学医学院、英国皇家妇产学会、香港中文大学等国内外医生亲诊。
  The hospital also regularly invite famous experts from the University of Kansas Medical Center, the Royal College of Obstericians and Gynecologists, the Chinese University of HongKong and so on to provide the high-quality medical service.

  名医工作室 Famous doctors studio
  省内外知名医院的著名医生在爱博恩建立工作室,定期坐诊、会诊、手术等。
  Many famous experts from well-known hospitals in and out of the province establish their studio in iBornhospital,regularly be in clinic,consultation, operation,etc.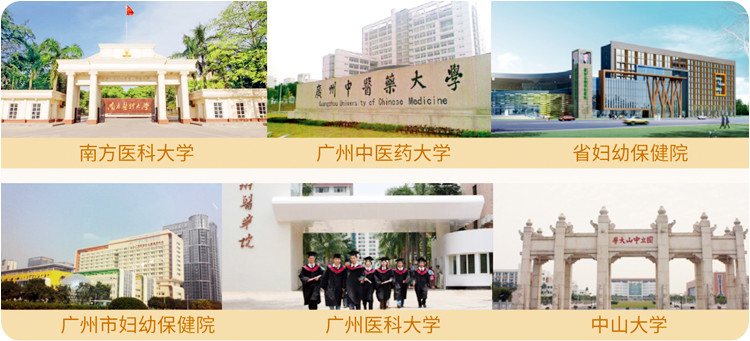 95% 医疗设备由美德日进口
  95% of medical equipment imported from American, Germany and Japan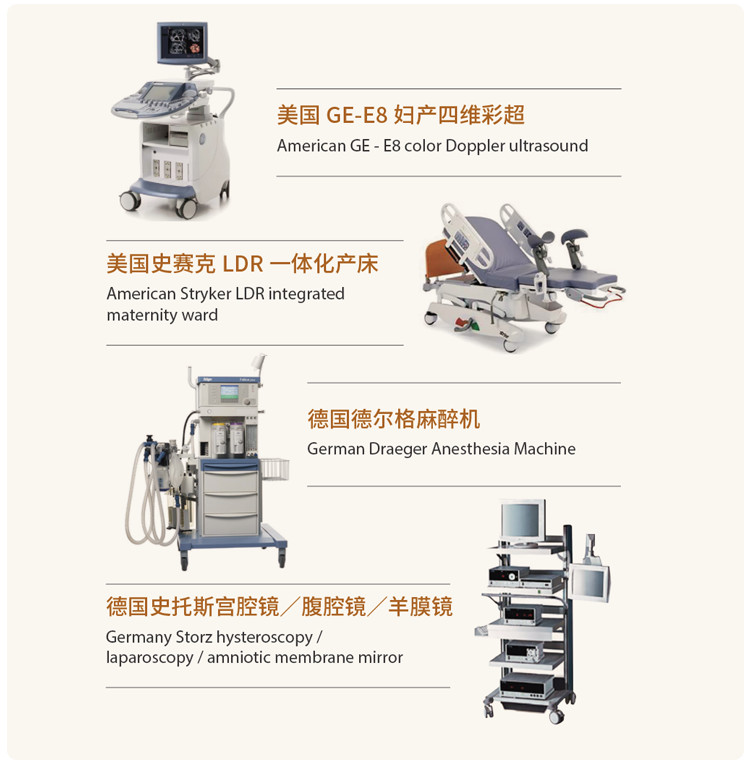 爱博恩产科在确保医疗安全的前提下, 提供包括优孕指导、 孕期管理、 安全分娩与镇痛管理、 产后康复、 咨询指导、 健康宣教等全面、舒适、方便、私密的家庭化生育服务。产科医生会围绕怀孕阶段就母体情况,胎儿情况、孕妇营养和运动等内容与您及家属进行详细交流,共同制定分娩计划。让您充分享受即将做母亲的感觉,在家庭化的氛围之中渡过一个愉快的孕期。
  The obstetrics department of iBorn provides comfortable, convenient, intimate homely childbearing service, which includes pregnancy guidanceand management, delivery safe and analgesia management, postpartum rehabilitation, consultation and guidance, health education, on thepremise of ensuring medical safety. Obstetric experts would communicate with you and the family members in detail on maternal conditions, fetalsituation, plenatal nutrition and sport to make delivery plan commonly, so as to make you fully enjoy the feeling of be coming a mother and spenda happy pregnancy in the family-like atmosphere.
  服务内容 Service Content
  孕前健康检查、最佳受孕指导、孕前检查保健、订制分娩计划、孕期营养指导、LDR 家庭化分娩、无痛分娩、多位亲人陪护分娩、导乐分娩、拉玛泽减痛分娩、高品质剖宫产手术与术中陪伴、产后子宫恢复、产后盆底康复、孕期及产后心理、营养,新生儿护理、孕产宣教、孕期瑜伽、分娩预演等。
  Pre-pregnancy health examination, guidance for healthy birth, pre-pregnancy care, formulating labor plan, nutrition guidance during pregnancy, LDR delivery at family maternity ward, painless childbirth, childbirth with accompanying of several relatives, Doula childbirth, Lamaza lpair relieving delivery, high-quality cesarean and intraoperative accompanying. postpartum uterus recovery, postpartum pelvic floor rehabilitation, pregnancy and postoartum psychology, nutrition, newborn care, maternal education, prenatal yoga, childbirth rehearsal.

  我们的新生儿科主任拥有强大的技术力量给予最大的支持。
  Our director of neonatology department are from the Third Affiliated Hospital of Sun Yat-sen Universi-ty. Strong technical force give you maximum support.
  爱博恩妇科倡导疾病预防与健康保健,根据女性不同年龄及生理阶段特点,提供系统全面的医疗保健。服务项目包括:常规妇科检查、生殖系统常见病的检查、诊断、治疗及手术;乳腺疾病筛查及治疗、不孕不育检查及治疗;青春期、更年期女性健康咨询等。
  Gynecology department of iBORN advocates disease prevention andhealth care, iBORN provides comprehensive health care systemaccording to characteristics of different ages and physiological stage ofwomen. Service items include: routine gynecological examination,female reproductive system diseases examination, diagnosis, treatmentand operation; mammary gland disease screening and treatment,infertility examination and treatment.
  爱博恩还开展如宫腔镜、腹腔镜等各类复杂及疑难妇科手术。妇科微创技术开展腹腔镜、宫腔镜探查及手术,如:输卵管疏通 / 切除术、卵巢囊肿摘除术、子宫肌瘤剔除术、子宫全切术、阴道成形术、子宫脱垂悬吊、宫外孕等妇科手术项目。
  IBorn also has ability to provides kinds of complex and difficultgynecological surgery treatment. Gynecologic minimally invasivetechnology is adopted to carry out the laparoscopy and hysteroscopydetection and surgery, such as: tubal dredge/resection, ovarian cystexcision, myomectomy, total hysterectomy, vagino-plasty, uterineprolapse suspension,ectopic pregnancy and other gynecological surgery.
  Professional gynecological doctors and nurses of Third-Class Grade-A Hospital replace traditional confinement nurses to provide motherhood nursing service

  爱博恩产后康复依托爱博恩妇产医院建立,医院和产后康复一体化管理,由三甲医院妇产科医生、儿科医生、主管护师联合传统月嫂提供全程母婴照护服务,以科学的医学照护代替传统月嫂服务模式,凭借独有的11对1服务体系、完善的3H管理体系与卓越的服务品质,致力于为广大新生儿和产后妈妈提供个性化、系统化、专业化、高品质的护理服务。
  Through the integrated management of hospital and maternity care club, professional gynecological doctors and nurses of the Third-Class Grade-A Hospital replace traditional confinement nurses to provide motherhood caring service; scientific medical caring service substitutes for traditional confinement nurse service mode. Relying upon unique"11 medical staff to one family"service system and complete 3H management system and excellent service quality, I Born Medical Maternity Care Club dedicates to providing newborns and postpartum mothers with individualized, systematic, professional and high quality caring service.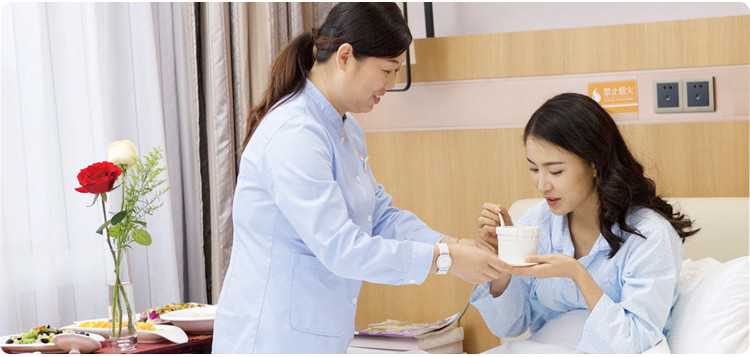 ●由三甲医院妇产科专业医生护士替代传统月嫂提供全程母婴照护
  ●医院与产后康复一体化,为母婴健康提供 24 小时无接缝保障护航
  ●配备专业医疗设备,提供产后专业康复评估、理疗,加速产后康复
  ●高级营养师定制,将中医药膳与科学营养配餐结合,促进体质恢复
  ●专业妇产科医生定期查房,为产妇提供科学专业的临床康复指导
  ●智能门禁、婴儿防盗、影像监控等多系统合一,确保宝宝安全、妈妈无忧
  ●Professional gynecological doctors and nurses of the Hospital replace traditional confinement nurses to provide motherhood caring service
  ●Through the integrated management of hospital and maternity care club, this club can provide 7*24h seamless Safeguard for mother and newborn health
  ●Professional medical equipment are taken advantage to offer professional postpartum assessment and physical therapy, as well as accelerate postpartum rehabilitation
  ●Customized by senior nutritionist, combining medicated diet with scientific nutritional diet to promote postpartum rehabilitation
  ●Professional gynecological doctors will make ward rounds and offerprofessional clinical rehabilitation guidance to postpartum women .
  ●Integration of multiple systems like intelligent access control, infant security and image monitoring can assure the safety of newborn and mother.